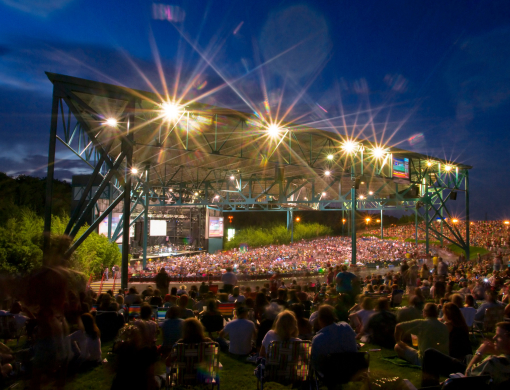 2022 Portsmouth State of the City
"It's all about engagement!" was the overarching theme of Mayor Shannon Glover's Portsmouth State of the City address.
On April 13th, the Hampton Roads Chamber welcomed 500 community and business members to the Renaissance Portsmouth Hotel and Waterfront Conference Center for the Portsmouth State of the City. The Honorable Mayor Shannon Glover highlighted key business, economic, and community initiatives impacting the City of Portsmouth.
Troy Lindsey, External Affairs Manager for Dominion Energy, gave the Platinum and Member Spotlight sponsor remarks. "It's WINDS-day!" said Lindsey, holding up the Dominion Energy Wind Energy handheld fan. Dominion Energy is looking forward to working with Portsmouth and Siemans Gamesa to support the Coastal Virginia Offshore Wind Initiative.
Glover began his address by remembering two great Portsmouth men who have recently passed away; John Hatcher, who served as the Executive Director of the Wesley Community Center for 48 years, and John P. Wright, founder of John P. Wright Construction Company. "Both of these men embodied the meaning of public service. They leave a profound legacy in the communities they touched and will be sorely missed," said Glover.
Glover announced the exciting news that the Port of Virginia has been approved for the final funding needed to begin the dredging project that will create the deepest and widest shipping channel on the east coast by 2024.
"My first year as Mayor of the city of Portsmouth has been about learning and meeting the city's challenges head-on," said Mayor Glover. "After more than two years of dealing with a global pandemic, Portsmouth's most critical partnerships have been with organizations and groups that will improve the health and wellness of its residents," said Glover. He then recognized programs like Healthier757 and Portsmouth's healthcare partner, Bon Secours.
Mayor Glover revealed that Bon Secours Maryview will be opening a new hybrid operating room in May, bringing the most advanced and least invasive heart care to Portsmouth. He also briefly mentioned Bon Secours's work with city police and fire departments and behavioral healthcare services to identify better ways to serve the community's behavioral health needs.
"We will continue to support our small businesses. I want Portsmouth to be recognized nationally as the city that creates a well-trained and educated workforce that meets the needs of the various industries," said Glover. He stressed the importance of having a partnership between the City, Portsmouth Public Schools, Tidewater Community College, the private sector, and the community to create a pipeline of skilled employees to meet future demand. Throughout Glover's address, he spoke of the need to continue creating a skilled workforce and how many organizations need to work together to ensure Portsmouth is a city that attracts workforce talent.
Glover shared that he and City Manager Angel Jones participated in the Bloomberg Harvard City Leadership Initiative in 2021. This initiative is a year-long program designed to assist mayors and their leadership teams in running a city and provides leadership training opportunities.
"Dirt is flying all over the city with new businesses and new developments!" exclaimed Glover. For Economic Development, Glover highlighted Portsmouth@Work, a center that offers free training and certifications in efforts to help citizens on new career paths, as well as Tidewater Community College's Skilled Trades Academy.
Glover highlighted the steady influx of new business investments taking place in Portsmouth. "A record-breaking 469 million dollars in new economic investment for 2021," said Glover. Portsmouth has realized over 1 billion dollars in private development over five years.
Glover appeared enthusiastic about the growth of Portsmouth and the exciting opportunities coming in 2022.
The Hampton Roads Chamber works to be an inspiring ignitor, impactful advocate, powerful economic partner, and regional collaborator.
Thank you so much to our sponsors for their support in making this event possible
Presenting Series Sponsor: TowneBank
Platinum Series Sponsor and Member Spotlight Sponsor: Dominion Energy
Platinum Series Sponsors: Bon Secours, Dominion Energy
Silver Series Sponsors: ABNB, GEICO, Hampton Roads Workforce Council, Langley, Sentara Optima Health, Rivers Casino Portsmouth, Verizon
Media Series Sponsor: WTKR Channel 3