About Us
Mission
The Hampton Roads Chamber Means Business! As the premier pro-business organization, we set the conditions for all businesses to succeed by leading, advocating and empowering our region.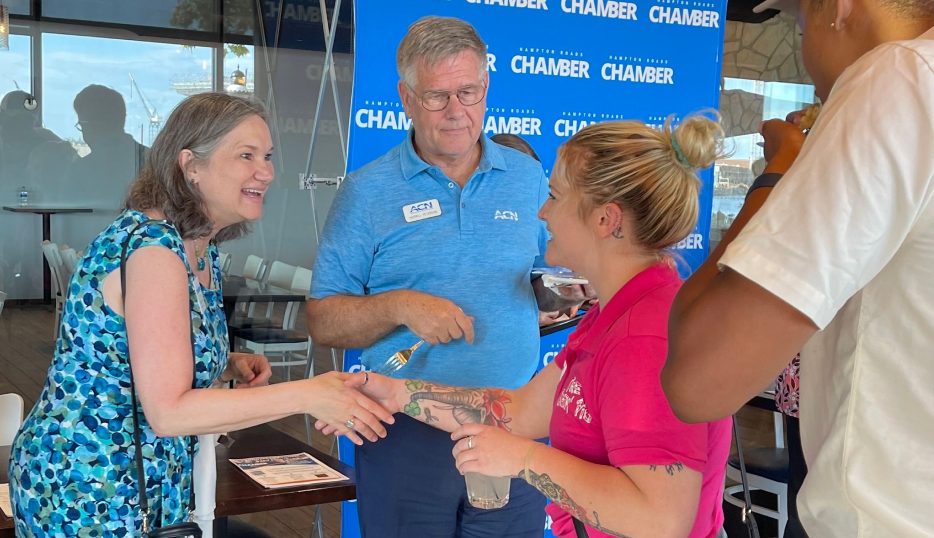 Vision
The Hampton Roads Chamber commands the most powerful position for influencing positive change in the business community and setting the conditions for regional economic prosperity.
Values
Bold Leadership
Regional Collaboration
Commitment to Excellence
Diversity, Equity and Inclusion
Purposeful Transformation
Grace, Gratitude, Giving
Our Culture
We Mean Business! We are Unapologetically Pro-Business.
We work for our members. We work to intentionally provide world-class programs and business services in Hampton Roads.
Excellence is our standard and we are relentless in our pursuit of it.
Our professional staff takes results personally.
We are committed to constant and never-ending improvement.
Working with regional community leaders in Hampton Roads, the Chamber offers a valuable resource for businesses to take action and ignite positive change.
Servant leadership is the foundation of our culture.
We provide a meaningful value to our members through programs and business opportunities in Hampton Roads that enhance their ability to succeed and grow.
Our Goal
Provide a meaningful value to our members through programs and services which enhance their ability to succeed and grow their business.
Leadership
Along with our staff, the Hampton Roads Chamber works with a number of volunteers and trustees to make our vision of business-to-business connections a reality.
Meet the Hampton Roads Chamber Staff
Volunteer Leadership
The Hampton Roads Chamber is governed by a volunteer regional board of directors. Five Local Division Boards representing each locality served, focus on local issues. There are many more volunteers serving on the Chamber's various committees.
Connect with Leadership
Trustee Members
The Chamber and the community benefit from the knowledge, experience, and interest of corporate CEOs and other business executives. Members at this level provide invaluable input into the direction of the Chamber, while also benefiting from broad exposure to key business leaders in the region.
Meet the Trustee Members
Strategic Partners
Strategic Partners support the Chamber's mission by investing significant resources into the organization. Members at this level receive special recognition for their investment in supporting the Chamber's goal to ensure the region continues to be a great place to live, work, and play.
View our Strategic Partners

Chamber Ambassadors
The Hampton Roads Chamber Ambassadors are a volunteer group of professionals from various backgrounds. They promote membership benefits and enhance goodwill to help the Hampton Roads Chamber grow in the community. Ambassadors assist in the recruitment of new members through personal contacts and encourage involvement and awareness of existing members—maximizing retention.
Meet Our Ambassadors
Partners & Affiliates
By forming partnerships, the Chamber is able to leverage our marketing efforts, services, resources, and educational support. It makes us stronger. More importantly, it makes our members stronger.
Discover Our Partners and Affiliates
Connect With Us
Connect with the Chamber and enhance your visibility.
Strategic Partners
Thank You To Our Strategic Partners.