Leadership
Hampton Roads Chamber Board of Directors
For more than 25 years, the Hampton Roads Chamber has provided leadership promoting growth and progress for the Hampton Roads region. Members of our Executive Committee and Board of Directors have been elected from the Chamber membership to set Chamber policies and priorities.
EXECUTIVE Committee
Jim Bibbs
Chair
LifeNet Health
Dawn S. Glynn
Chair-Elect
TowneBank
Bob Pizzini
Treasurer
iFly Virginia Beach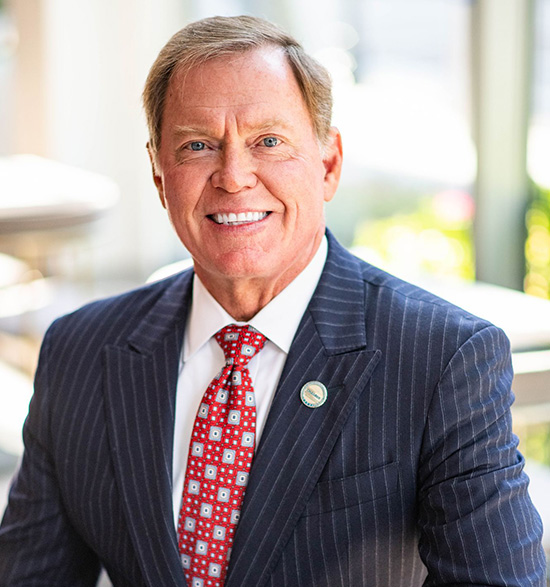 Bryan K. Stephens
President & CEO
Hampton Roads Chamber
John Wilson
Vice Chair, Development
Brown & Brown Insurance
Nneka Chiazor
Vice Chair, Diversity
Cox Communications
Shawn Avery
Vice Chair, Education & Workforce
Hampton Roads Workforce Council
Pamela Walker
Vice Chair, Governmental Affairs
PNC Bank
Dr. Antipas Harris
Vice Chair, Interfaith Relations
The Urban Renewal Center
Michele Partridge-Lane
Vice Chair, Leadership Programs
Russell 's Heating, Cooling, Plumbing & Electric
Cathy Lewis
Vice Chair, Marketing & Communications
Lewis Communications Group
Dave Paradise
Vice Chair, Membership
Dollar Bank
Ronald Lewis
Vice Chair, Miliitary Affairs
LTC2 Consulting
Jeff Tanner
Vice Chair, Small Business
Bienestar
Kurt Krause
Vice Chair, Tourism
VisitNorfolk
Phil Damuth
Vice Chair, Volunteerism
Damuth Trane
Austin Gregory
Vice Chair, Young Professionals
Special Olympics Virginia
Georgie Marquez
Vice Chair, At Large
Andre Marquez Architects
Johnny Garcia
Vice Chair, At Large
SimIS, Inc.
James White
Vice Chair, At Large
Safelite AutoGlass
John DeGruttola
Vice Chair, At Large
Sentara Optima Health
Dr. Ken Kahn
Vice Chair, At Large
Old Dominion: Strome College of Business
Steve Romine
Chair, HR Biz PAC
Williams Mullen
Lacy Shirey
Chair, Chesapeake Division
Chesapeake Humane Society
Leah Williams-Rumbley
Chair, Norfolk Division
Foodbank of Southeastern Virginia
Paul Hunter
Chair, Portsmouth Division
MABC Technology Solutions
Anthony Piglowski Jr.
Chair, Suffolk Division
Freedom Street Partners
Daniel B. Heatwole
Chair, Virginia Beach Division
Ripley Heatwole Co., Inc.
Glen M. Robertson
General Counsel
Wolcott Rivers Gates
Chris Stone
Immediate Past Chair
Clark Nexsen
Board of Directors
Dr. Javaune Adams-Gaston
Norfolk State University
Justin Ballard
S. B. Ballard Construction Company
Anna Bonet
Elizabeth River Crossings
Tonya Byrd
Dominion Energy
Dr. Marcia Conston
Tidewater Community College
Darius Davenport
Crenshaw, Ware & Martin, PLC
Mike Donohue
ADP
Robert Duvall
Virginia Natural Gas, Inc.
Greg Garrett
Garrett Realty Partners
Dr. Brian Hemphill
Old Dominion University
Andrew Hodge
Atlantic Union Bank
Terry Horan
STIHL, Inc.
Reese Jackson
Chesapeake Regional Healthcare
Harvey Johnson
PBMares, PLC
Ha Koehler
On Point Communications
Ron Lauster
W. M. Jordan Co., Inc.
Maureen McDonnell
MSP
James Noel
The Franklin Johnston Group
Dan Peterson
TRUIST
Bert Schmidt
WHRO
Brian Schools
Chartway Federal Credit Union
Chris Tan
Foodbank of Southeastern Virginia and the Eastern Shore
Bruce Thompson
Gold Key-PHR
Cathie Vick
Port of Virginia
Bennett Zier
Audacy, Inc.
Thomas McCarthy
Chair-Elect, Chesapeake Division
Hourigan
Mike Camden
Chair-Elect, Norfolk Division
Troy University-Global Campus
Dr. Cynthia Tyler
Chair-Elect, Portsmouth Division
Let's Pack and Go
Leonard Provost
Chair-Elect, Suffolk Division
Heartland Construction
Andy Stephenson
Chair-Elect, Virginia Beach
Sentara Healthcare
Shawn Avery
Ex-Officio - Community Leader
Hampton Roads Workforce Council
Robert Crum, Jr.
Ex-Officio - Community Leader
Hampton Roads Planning District Commission
Rick Dwyer
Ex-Officio - Community Leader
Hampton Roads Military & Federal Facilities Alliance
RADM Christopher Gray
Ex-Officio - Community Leader
U. S. Navy Region Mid-Atlantic
Nancy Grden
Ex-Officio - Community Leader
ReInvent Hampton Roads
William Harrell
Ex-Officio - Community Leader
Hampton Roads Transit
Kevin Page
Ex-Officio - Community Leader
Hampton Roads Transportation Accountability Commission
Doug Smith
Ex Officio - Community Leader
Hampton Roads Alliance
Rhonda Bridgeman
Ex Officio - Past Chair
Comfort Systems of Virginia, Inc.
Joe Donnelly
Ex Officio - Past Chair
Donnelly Real Properties, LLC
Dorcas Helfant-Browning
Ex Officio - Past Chair
Coldwell Banker NOW
Martin Joseph
Ex Officio - Past Chair
360IT Partners
Delceno Miles
Ex Officio - Past Chair
Miles Agency
Deborah K. Stearns
Ex-Officio - Past Chair
JLL
Joseph Witt
Ex Officio - Past Chair
Old Point National Bank
Local Division Boards
Bringing the Chamber to you. Local Divisions bring the Chamber to where our members are, providing a dedicated focus to our community and allowing for greater connectivity to fellow members. While we are a regional Chamber, each community has unique issues and needs.
Trustee Members
The Hampton Roads Chamber's Trustee Members are a group of visionary, civic-minded executives committed to moving our region forward by creating more economic prosperity and improving the quality of life. The Chamber and the community benefit from the knowledge, experience, and interest of our Trustee members.
We thank our Trustee members for their support and contributions to the Chamber and the Hampton Roads' business community.
Meet Our Trustee Members
Strategic Partners
Thank You To Our Strategic Partners.