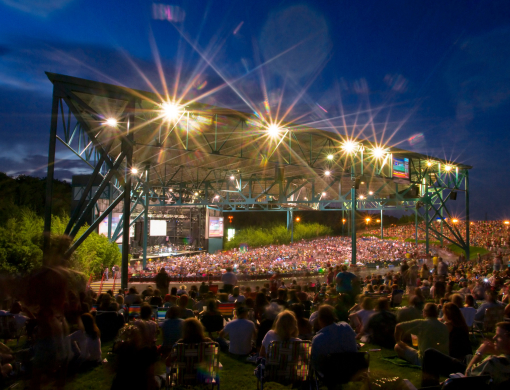 Added on September 15, 2023 by Kindra Greene to
Member News
Elizabeth River Trail Foundation To Dedicate New Park on Sept. 21 at 11 am
The Elizabeth River Trail Foundation will dedicate its new pocket park on the corner of Park and Lovitt Avenues on September 21 at 11am. The public is invited to attend the celebration of this new amenity in the area adjacent to Harbor Park and Norfolk State University.
This space was created this past Earth Day and Celebrate Trails Day by ERT volunteers who planted six trees and installed a native pollinator garden and a Little Free Library. Also, part of the beautification of the space was the reuse of a boat donated from Tidewater Wooden Boat Workshop into the first Community Needs Pantry on the trail.
After months of volunteer work, the 12-foot boat has been transformed into a work of art brightly painted in ERT's signature green, blue and orange colors with handmade doors. The Community Needs Pantry was installed earlier this month with the help of Hourigan Construction volunteers.
The dedication ceremony will include the official opening of the Community Needs Pantry, and the public is encouraged to bring personal hygiene items to stock the pantry and books to restock the Little Free Library. The ceremony will also include the dedication of a live oak tree to commemorate ERT's first Executive Director, Cheryl White, who will attend the celebration.
"The ERT is always looking for ways to create connections, hold space for people to have pride in their community and beautify the trail experience," said Kindra Greene, ERT executive director. "This right of way seemed like the perfect spot to show some love to the east side on the trail and increase the tree canopy. This park was truly created by the community, for the community, and we hope it will become a resource for families and a way to introduce new people to the trail."
The Elizabeth River Trail Foundation's mission is to create an inclusive and resilient urban riverfront trail that connects and inspires people and businesses in the Hampton Roads region. The Elizabeth River Trail runs 10.5 miles through businesses, historic attractions and 28 neighborhoods within a five-minute walk. The multi-use trail is designed for walking, running and biking. It comprises 11 sections from Norfolk State University, through Downtown Norfolk and Old Dominion University to NIT Terminals along the Elizabeth River. The Foundation has completed multiple new unique and award-winning amenities, including kayak launches, play sculpture and double turbo challenge course in Plum Point Park and The Glowline. Major sponsors include Sentara and the City of Norfolk. For more information, visit elizabethrivertrail.org.