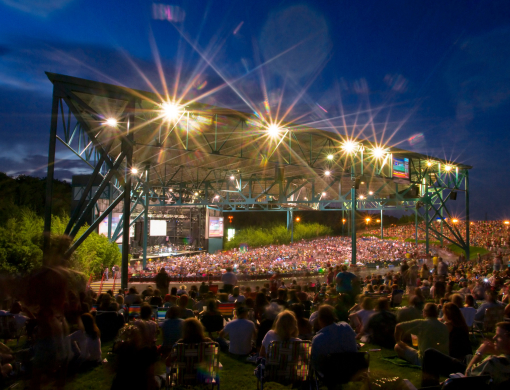 Added on December 12, 2022 by Sonja Barisic to
Member News
Hampton Roads Community Foundation Honors Attorney David Kamer
Community Builder Award Recognizes Outstanding Community-Minded Professional Advisor
NORFOLK, Va., Dec. 8, 2022 – Attorney David Kamer, this year's recipient of the Hampton Roads Community Foundation's annual Barron F. Black Community Builder Award, has a deeply personal connection to philanthropy. 
"I wouldn't be here were it not for the support my family received from charitable organizations before I was born," said Kamer, a member of Kaufman & Canoles who focuses on estate planning, trust and estate administration, and advising and forming nonprofits. He also is involved in several community organizations. 
Kamer's Polish-born father was a teenage survivor of the Holocaust whose parents were killed during the genocide. The American Jewish Joint Distribution Committee provided supplemental food, clothing and supplies to refugees like his father who were living in displaced persons camps. 
His father ended up in Cuba, where he met and married Kamer's mother. Later, when Kamer's parents left Cuba for the United States to escape the Castro regime, they arrived penniless. The Hebrew Immigrant Aid Society helped them and Kamer's two older sisters — then infants — settle in Baltimore, Maryland, where Kamer was born. The nonprofit found the family an apartment, bought groceries for them and helped Kamer's father find his first job. 
"It was that first step up that paved the way for my parents to make it to the middle class, living the American dream," Kamer said. "Having benefited from charitable organizations, who in turn are dependent on philanthropy, I could not in good conscience choose not to support organizations that help others."
The annual Barron F. Black Community Builder Award honors an outstanding community-minded professional advisor. It was inspired by Barron F. Black, an attorney, founder of Vandeventer Black LLP, and the community foundation's first board chair.
"Professional advisors like David Kamer play a critical role in advancing philanthropy in the region," said Foundation President and CEO Deborah M. DiCroce. "David is a champion for philanthropy who routinely encourages his clients to be charitable. The Foundation is delighted to recognize David for his enduring commitment to making Hampton Roads a thriving community."
Kamer, the 16th recipient of the award, was celebrated at a Dec. 7 reception at the Norfolk Yacht & Country Club. At the event, a $5,000 grant from the community foundation was presented to a charity chosen by Kamer, Jewish Family Service of Tidewater. 
"I chose JFS partly because of my family's history of involvement with the organization and partly to support and recognize the important work JFS does," Kamer said. "They provide critical services to help ensure that the elderly, adults with special needs, and other vulnerable people, regardless of faith affiliation, get the care and services they need." 
Kamer has been locally, regionally and nationally recognized for his law practice and is an adjunct professor at the William & Mary School of Law. He earned degrees from the University of Virginia, Stanford Law School and the University of Florida College of Law.
Kamer serves on the boards of Arts Alliance, the Norfolk Police Foundation, Congregation Beth El and Tidewater Jewish Foundation. He has served on the boards of a number of other organizations, including The Dwelling Place and Planned Parenthood of Southeastern Virginia, and he regularly provides pro bono legal services to local charities. 
Kamer said a community cannot be healthy without a gamut of charitable organizations, including arts groups, schools and colleges, hospitals, shelters for people experiencing homelessness, food pantries and civil rights organizations that fight injustice. 
"We need them, and they need support so they in turn can be healthy and they can provide these important services and be the best that they can be," Kamer said. 
"Ultimately, philanthropy allows us to be our best selves," Kamer continued. "By giving, we're choosing to be unselfish. We are looking outside ourselves to push the ball forward, even if it's just a little bit at a time, to make our community and our world a better place." 
About the Hampton Roads Community Foundation:  
With roots dating back to 1950, The Hampton Roads Community Foundation is a permanent charitable endowment with over $500 million in assets. It has awarded over $344 million in grants and scholarships since its founding. The Foundation also plays a critical role in community leadership, tackling such regional issues as early childcare and education, homelessness and affordable housing, climate change and disaster responsiveness, and regional economic competitiveness. The Foundation's mission is to make life better in Hampton Roads through grantmaking, philanthropy, and civic engagement. Its vision is a thriving community with opportunity for all.
Photo information: Attorney David Kamer of Kaufman & Canoles, left, is the 2022 recipient of the Hampton Roads Community Foundation's annual Barron F. Black Community Builder Award. The award honors an outstanding community-minded professional advisor. Foundation Board of Directors Chair Sharon S. Goodwyn, center, and Foundation President and CEO Deborah M. DiCroce, right, presented Kamer with the award at a reception on Dec. 7 at the Norfolk Yacht & Country Club. (Photo courtesy of the Hampton Roads Community Foundation)