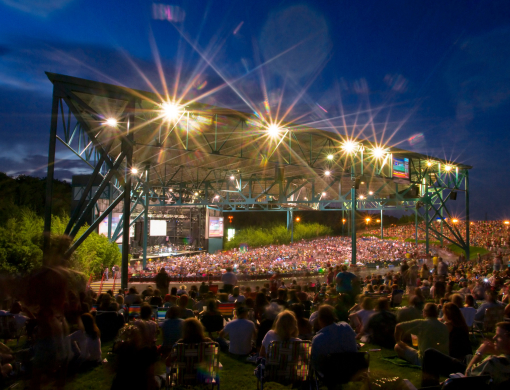 Two Boys Sack Childhood Cancer, Huddle Up For Disney World Trip
Chartway Credit Union, its Chartway Promise Foundation, Toby's Dream Foundation Team Up to Fund Magical Wish
Norfolk, VA (September 8, 2022) – Hey, Cameron! Hey, Foster! You just had your dream granted in front of 22,000 football fans and millions of TV viewers. What do say to that? "We're going to Disney World!"
That was the reaction of two childhood leukemia survivors, Cameron Gular and Foster Jones, who had just been told their shared wish was coming true during the ESPNU broadcast of the Virginia Tech vs. Old Dominion University football game on Sept. 2, presented by Chartway.
The wish reveal was made possible by Chartway Credit Union and its charitable arm, the Chartway Promise Foundation, with charitable funds given to Toby's Dream Foundation. Chartway was also the official Game Day Sponsor of ODU's opening day football game.
"The five- and six-year-old boys and their families met and became close during the boys' leukemia treatments at Norfolk's Children's Hospital of the King's Daughters (CHKD). The boys have since become best friends and both love football – Cameron's mom graduated from Virginia Tech, so he is a Hokie fan and Foster is a Monarch fan since his father is an Old Dominion grad," said Brian Schools, president & CEO of Chartway."
"When we learned they wished to go to Disney, we couldn't think of a better way to surprise them with the news than by telling them down on the field during this in-state rivalry — so we did!"' Schools said. "The game was played on Foster's one-year anniversary of being cancer-free, so we had a lot to celebrate that day."
"The joy on their faces was something I'll never forget. It was incredible," Schools shared.
Chartway has partnered with ODU and its Athletics Department for nearly 20 years, which has included renaming the Chartway Arena, providing $25,000 in scholarships to student athletes every year, event discounts, and other Team Monarch activations around campus.
The Chartway Promise Foundation is the credit union's charitable arm and fulfills Chartway's commitment to its communities by providing the financial support to make dreams and wishes come to life for kids facing medical challenges. "Bringing joy, hope, and smiles to children like Cameron and Foster is what our Chartway Promise Foundation is all about," shared Christine Wilson, president of Chartway's charity. "We're thrilled to do just that for Cameron and Foster. Throughout their difficult journey with cancer, dreaming of a trip to Disney together brought them the priceless gift of hope."
The credit union and its foundation have raised nearly $14 million to bring joy, hope, and smiles to thousands of kids like Cameron and Foster.
September is also Childhood Cancer Awareness Month. Because the Chartway Promise Foundation supports so many children facing pediatric cancer and other medical illnesses, Chartway is hosting a Gold Ribbon Fundraiser in its branches all month. For each dollar contributed, donors will receive a gold ribbon customized with their name or the name of someone they want to honor and displayed throughout the branches and offices. The iconic "Promise Bears" plush animals will also be sold in branches leading up to the 23rd Annual Charity Golf Classic in Virginia Beach, VA, on September 26.
To learn more or make a donation, visit www.ChartwayPromiseFoundation.org.