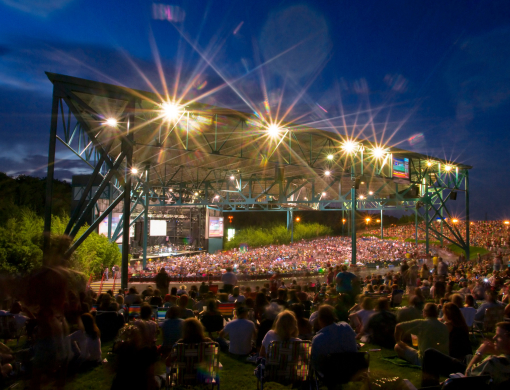 Great Things Are Happening in Virginia Beach!
This impactful and celebratory event brought more than 1,100 people together to hear the great things happening in Virginia Beach! Mayor Bobby Dyer and City Manager Patrick Duhaney, began the presentation in celebration of Virginia Beach's 60th Anniversary. They shared news of a commemorative logo showcasing the interconnectivity of residents, city staff, multicultural neighborhoods, and military communities.
Mayor Dyer went on to speak about those who have inspired him. He shared, "These individuals have truly impressed me with all of the good work they continue to do, year after year, through this city and Hampton Roads."  Those acknowledged included:  David "Israel" Leader, Ed Walls and Micah Walls of T.E.A.M. L.A.M.B., Ronnie "Mack" McAdoo of 1 Died 4 All Sports and Danette Crawford of Joy Ministries.
During the event, Batrice Buttler-Brown, Girls on the Run Hampton Roads, and Sprouty LLC were noted as The 2023 Champions of H.O.P.E honorees. The Mayor shared that, "each of these honorees represents the best in community partnerships and we are honored to have them as our 2023 Champions of H.O.P.E. in this year's inaugural year for the H.O.P.E. Initiative."  Mayor Dyer encouraged businesses, nonprofits, and faith-based organizations that do work within the community to consider joining the H.O.P.E. initiative.
An announcement was made at the Virginia Beach State of the City that the Bayside Recreational Center would be renamed The Louis R. Jones Bayside Recreation Center in honor of former Councilmember Louis Jones who suddenly passed away in June of 2022.Mayor Dyer also thanked the Virginia Beach City Council for their dedication to service while recognizing each member that makes up the council.
From there, Mayor Dyer shared that the Virginia Beach City Council approved more than $20 million dollars in funding to support the Virginia Beach Pandemic Relief Partnership. It was noted that the success of that relief partnership laid the foundation for VBThrive. Through a partnership with the United Way of South Hampton Roads, VBThrive has provided services to more than 50,000 families in Virginia Beach. The Mayor also shared the announcement that the new VBThrive Center has opened at the Meyera E. Oberndorf Central Library.
City Manager Duhaney went on to reveal that in a 2022 survey, 91% of residents rated their quality of life in Virginia Beach as excellent and 81% agree that Virginia Beach is a great place to raise children. It was also shared that Virginia Beach is listed as one of the safest large cities in America. It was shared that the Mayor's Youth Violence Prevention Task Force and the Parks After Dark program are two of the many programs that make a positive impact on Virginia Beach. City Manager Duhaney, shared that for the 14th consecutive year, Virginia Beach City Public Schools maintained a record level 94.9% on-time graduation rate and a low dropout rate of only 2.9%.
Exciting news was provided regarding the 119-mile fiber optic network ring. It was stated by City Manager Duhaney, "in collaboration with the Southside Network Authority and neighboring cities, the open access Regional Connectivity Ring will connect Hampton Roads cities to the transoceanic subsea cables and help to eliminate the digital divide throughout the region by ensuring the availability of equal, affordable broadband access."
Mayor Dyer went on to share that several companies headquartered in Virginia Beach are expanding! This includes Globalinx, a cable landing station provider, which is developing the first Subsea Carrier- Neutral Station in Virginia Beach. This development is said to help further Virginia Beach's goal of becoming the highest capacity digital port on the eastern seaboard. We received exciting news about DroneUp, who announced they will service more than 150 Walmart stores by June 2024 with a long-term goal of servicing all 4,000 Walmart locations across the United States. The mayor announced that SANJO, a multinational manufacturing company, headquartered in Virginia Beach plans to expand its headquarters and create new jobs. It was noted that STIHL also plans to expand its Virginia Beach manufacturing facility as well as bring additional jobs to Hampton Roads. All of these businesses along with several others are members of the Mayor's Manufacturing Roundtable.
During the event, congratulations were given to Dennis Matheis for being named President and CEO of Sentara Healthcare. Nneka Chiazor was acknowledged for her promotion to Hampton Roads Market Vice President for Cox Communications. Taylor Franklin and The Franklin Johnston Group received recognition for their ongoing commitment to creating affordable housing. Tony DiSilvestro and YNot Enterprises were also honored for providing more than 200,000 free meals to the community in a 6 month period.
Attendees were also excited to hear about the announcement of the following festivals and exhibits: "Beyond Van Gogh", Bulls & Barrels Beach Rodeo, Something in the Water, Beach IT Country Music Festival, and Jackalope Fest.
Other topics discussed included the Future Base Design Initiative, Virginia Beach Flood Protection Program, design consideration for the 531 Memorial, community involvement regarding the preferred election system, the Pembroke Square Redevelopment project, Old Dominion University's new Institute of Data, and the Virginia Beach Sports Center.
We want to thank Mayor Bobby Dyer and City Manager Patrick Duhaney for sharing their community accomplishments, business updates, and exciting event news with our audience.
A major thank you goes out to all of our sponsors for this event:
Series Presenting Sponsor: TowneBank
Series Platinum Sponsors: Bon Secours Hampton Roads, Chartway Credit Union, United Way of South Hampton Roads
Series Building the Future Partner: The Franklin Johnston Group
Series Silver Sponsors: ABNB Federal Credit Union, BayPort Credit Union, Dominion Energy, GEICO, Hampton Roads Workforce Council, Langley Federal Credit Union, Rivers Casino Portsmouth, Sentara Healthcare/ Optima Health, Verizon
Media Series Sponsors: WTKR News 3, Stellar Exposures, Virginia Business
Bronze Sponsor: Avangrid Kitty Hawk Offshore Wind
Decor Sponsor: Premier Events of Virginia Inc.
Visit the Hampton Roads Chamber for upcoming events and more event recaps.